The Boundary Commission will present its final recommendations to Parliament in a few months time, proposing an additional constituency for Cambridgeshire (due to rising population in the face of the property boom/house building/sci-tech bubble). The result? Cambridge will be encompassed by three constituencies, instead of two. Which would you choose? (Also a reminder for https://whocanivotefor.co.uk/ when candidate lists are released on Wednesday week)
TL/DR? Look at the proposals from the list here. Which would you have chosen: South Cambs, or St Neots/MidCambs?
The announcement inevitably caused some comment for a host of reasons – and quick out of the blocks was the Lib Dems MP candidate for South Cambridgeshire, Pippa Heylings – noting that South Cambs (both pre-and-post boundary review) is one of their highest priority seats.
Several people pointed out the above needed some correction, with @Nicky_GW stating:
"Actually he didn't say he was giving up South Cambs to find a new seat. @ab4scambs announced that he WILL be standing in the new St Neots & Mid Cambridgeshire seat at the next election, instead of the new South Cambridgeshire seat. There, fixed it for you."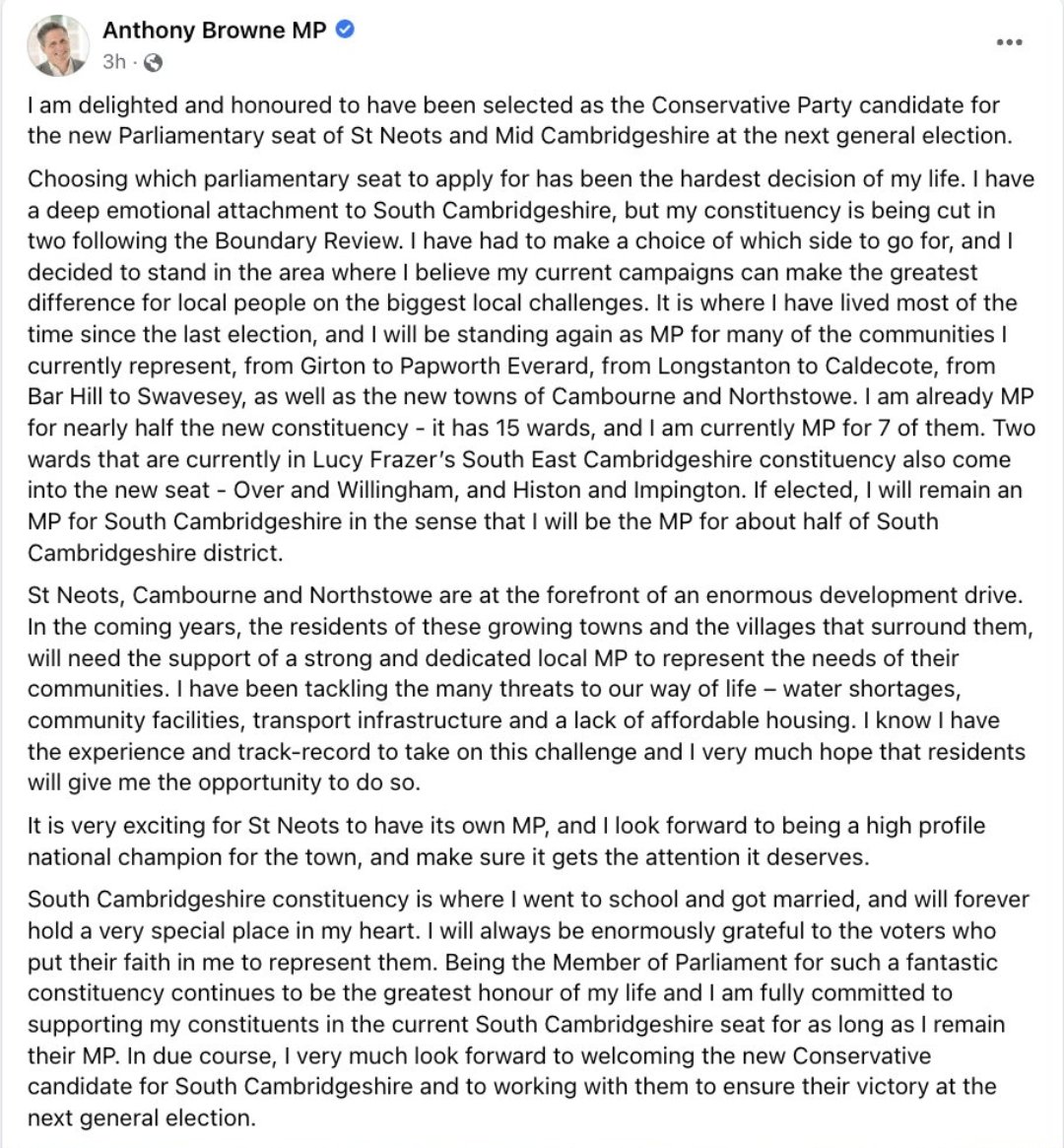 Originally tweeted by Nicky (@nicky_gw) on March 18, 2023.
The reasoning for the soon-to-be former MP for South Cambs is he chose the side of the present constituency (which you could say is 'South West Cambs') as the one where he says he can make the biggest difference with his current campaigns.
You can browse his voting record as an MP on TheyWorkForYou.Com here. How his ultra-loyal-to-the-Government voting record will go down with constituents old and new remains to be seen. It's very different when you have a voting record to defend, as many a local MP for Cambridge City can testify to. (Both Anne Campbell for Labour, and Julian Huppert for the Liberal Democrats lost their parliamentary seats when defending them in the 2005 and 2015 general elections respectively).
Either way, You be the judge.
As Phil Rodgers posts (And he'll be discussing this on Cambridge 105's breakfast show in the morning) the new constituency created has a new local political centre in the town of St Neots – one represented in local government by a host of independent councillors. Not a tribal vote to be taken for granted, and one that could make or break the campaign of any candidate campaigning to win the seat.
Furthermore, it also includes Cambourne, the rapidly-expanding town that is west of Cambridge. The proposals also mean that any commuter route current and future will cut across three parliamentary constituencies. Which will make East West Rail more interesting!
"So…what will the new South Cambridgeshire look like?"
Something like the old rural district council pre-1974, shaded in blue below.
Above – have a browse through the local history of Cambridgeshire in maps from this very readable/viewable document produced by the old county council (which had the external borders of the councils within them above)
The proposed parliamentary boundaries are as below:
Above – click South Cambridgeshire CC from the list of PDF docs
The smaller the geographical areas, the larger/more dense the populations Not surprisingly, historical documents from the 1960s indicate a preference from planners at the time for the direction of expansion for Cambridge to head along the Great Shelford-to-Sawston route.
Above – detail of Sawston and Great Shelford.
"How long before the next boundary review?"
That depends on how quickly the houses are built in Cambourne, Waterbeach, and the Cambridge Airport sites. Because there are enough homes (and thus people and voters) within each of the development in their respective constituencies to make a future Boundary Commission Review look at taking another chunk out of the City of Cambridge and adding it to South Cambridgeshire – most likely Trumpington. As with Cherry Hinton that moves into the new South Cambridgeshire constituency, both Trumpington and Cherry Hinton are historic villages in their own right, and have histories outside of the old Cambridge Borough.
Cambridge-Haverhill public transport links
This will be one of the biggest transport issues for whoever gets elected given both the ongoing objections to more busways in the face of the alternative proposals from Rail Haverhill & Cambridge Connect under the Rail Future umbrella. Personally I think it's possible to have both a light rail line serving and stopping at the villages side-by-side a heavy rail line that could start at Wisbech and potentially reconnecting with Sudbury before heading to either Chelmsford (where Anglia Ruskin University has its second major campus) or one of the Suffolk ports. Furthermore, it adds resilience to the public transport network when one of the other lines goes down.
Big votes coming up in local democracy before the elections in Cambridgeshire
We have:
After that, the notice for local elections will be published on 27 March, at which point no major decisions should be made by local councils – especially ones that a future council of a different party political make up may want to take a different view on. Lists of candidates standing for election will be published on Weds 05 April.
If you think you may want to stand for election, see the LGA here.
Food for thought?
If you are interested in the longer term future of Cambridge, and on what happens at the local democracy meetings where decisions are made, feel free to: